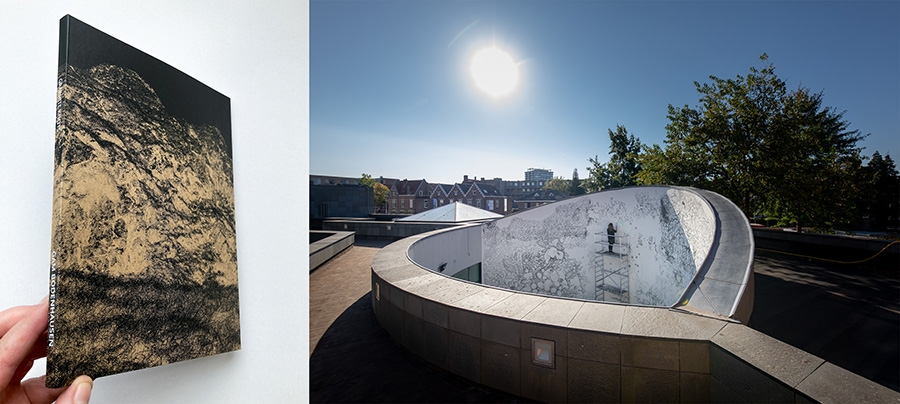 GRAPHITE KNOTS
BOEKPRESENTATIE / SIGNEERSESSIE'S
VINCENT VAN GOGHHUIS, ZUNDERT
Zaterdag 1 April 2023, 15:00 – 17:00
Locatie: Vincent van GoghHuis, Markt 26-27, Zundert
Het Van GoghHuis heeft het genoegen u uit te nodigen voor de boekpresentatie van Gam Bodenhausen op zaterdag
1 April 2023 om 15.00 uur in de Van GoghKamer.
Programma
15:00 – 16:00 Introductie Ron Dirven en Artist talk met Gam Bodenhausen
16:00 – 17:00 Signeersessie | mogelijkheid het boek te kopen
Gam Bodenhausen heeft in november 2021 gewerkt in het gastatelier van het Vincent Van GoghHuis. In een aantal tekeningen die in het boek Graphite Knots verwerkt zijn, zitten meerdere puzzelstukjes die met Van Gogh's leven, dood, zijn psychische gesteldheid en werk te maken hebben. Zoals de periode dat Van Gogh in de mijnstreek De Borinage verbleef. Hij beschreef in een brief aan zijn broer Theo de intense ervaring van een afdaling in de duistere wereld van een kolenmijn.
TEKENKABINET / BMB GALERIE
Zaterdag 16 april 2023, 12:00 - 12:45 (inloop 12:54)
Locatie: BMB Galerie, Kerkstraat 129A, Amsterdam
Lezing Gam Bodenhausen met aansluitend een bezoek aan de tentoonstelling Tekenkabinet XI
PRE-SALE! LIMITED EDITION
Would you like a signed and numbered copy of this limited edition? (only 120 copies!)
Please sent me an email with your details if you
wish to order the book.
I am pleased to inform you about my new book Graphite Knots. After a period of 4 years research and experiments with various techniques in the Printing and Publishing Lab at the Jan van Eyck Academy, the pre-sale of this handmade book has started.
Graphite Knots is a special edition with a collection of drawings, sketches and photography.These images were created during my trip to the Lake District, Cumbria (U.K.) and my research into the past and future of graphite. From this research I made a wall drawing of 8 x 21 meters in the Van Abbemuseum.
This edition contains an essay written by Steven ten Tije (Head collections Van Abbemuseum).
* Handmade book with Riso + Inkjet prints
* Limited edition of 120
* Softcover, screenprint
* 118 pages
* Size 19 x 26 cm
* English and Dutch text
* Price € 75,00 + Shipping costs
With thanks to: Prins Bernard Cultuur Fonds, Stichting Constant van Renessefonds, Van Gogh Air, Mondriaan Fonds